As you all know, Sunday was Valentine's Day. We started the morning with chocolatey-fudgey brownies in Sunday School and ended the night with heart attack mac & cheese. I have to tell you, after two full weeks of cooking every night in Columbia, I started to get worn out. Don't get me wrong.. I
love
food and I
love
making food but I'm just not used to creating meals every night! (Preview of marriage, aye?) For V-Day's lunch, we were going to go to Sesquicentennial State Park and have a picnic. After church, we rushed home, I put together some strawberry spinach wraps (total yums, by the way) and packed us a lunch. It was COLD. Remember, the snow had fallen just two days before and there were piles of it just sitting everywhere. To top everything off, David was getting one of his nauseating migraines and just wasn't in a fun mood (I have to commend him -- he stuck it out for lil ole me!). We had a super quick lunch and then went back to his place to hang around for the rest of the night.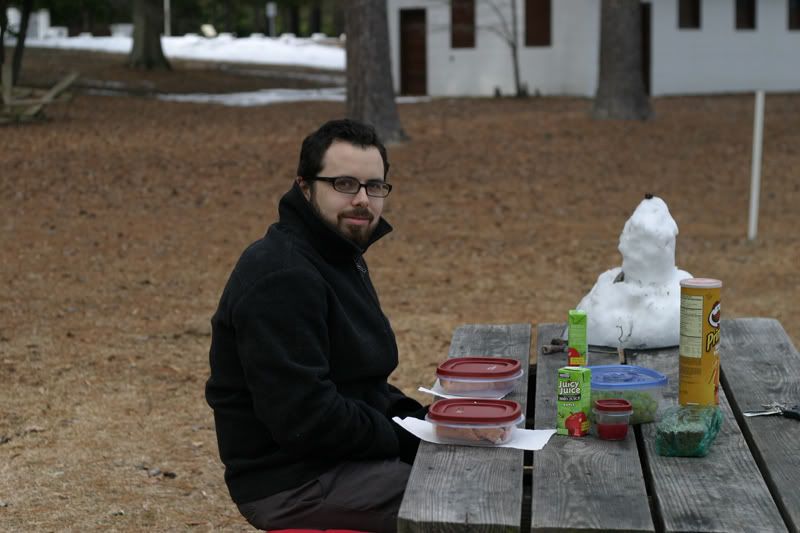 Poor sickly David
Strawberry Spinach Wrap (sundried tomato wrap, fresh strawberries, fresh spinach, fat-free cream cheese, dried cranberries, feta cheese, raspberry vinaigrette dressing)
David enjoying the only bit of lunch he managed to eat.. grapes.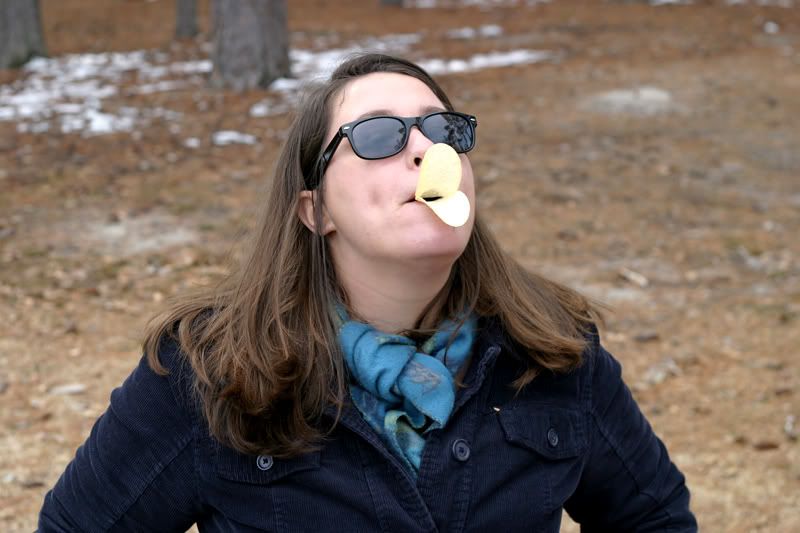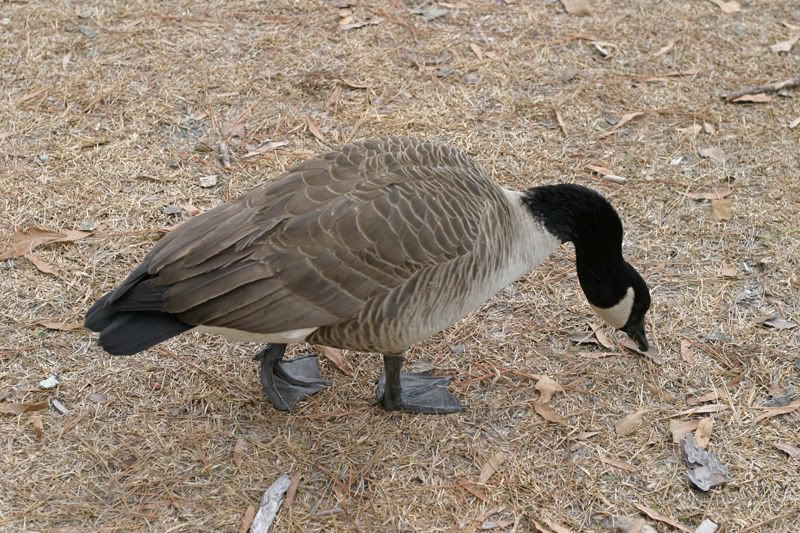 If you're ever in Columbia and you're bored, visit the park and watch these geese. They would have kept us entertained for HOURS.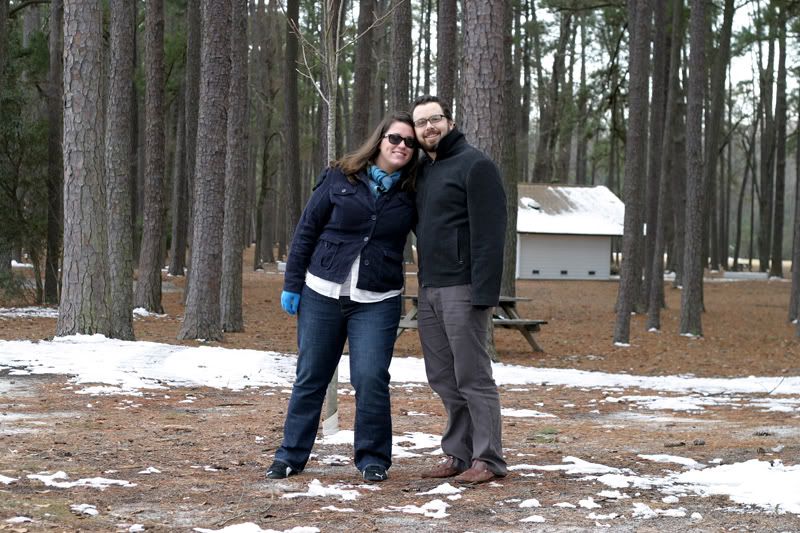 HI! WE LOVE EACHOTHER!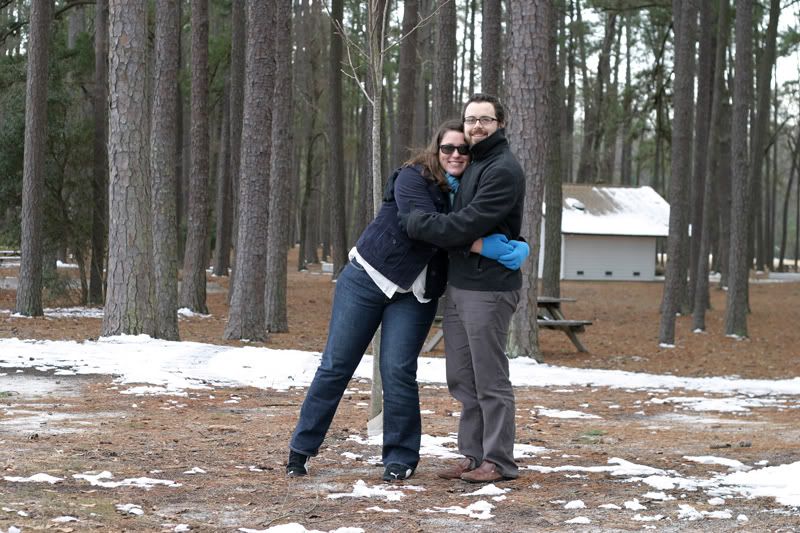 (:
Before I knew it, it was time to make dinner. Remember when I said I've been having trouble thinking up recipes (despite the zillion cookbooks I have!)?? Well, I suddenly had a craving for macaroni & cheese. David's roommate made some crockpot version of it a few weeks ago and I think I've been craving it ever since. Sooo into my little e-mail I went and found Eileen's recipe for her famous mac & cheese. Hers has a little zing to it because you use cayenne and dry mustard... which I love. I made it only once before (last summer during our cabin trip) and I didn't remember it being terribly wonderful. Well, well, well this time I proved myself wrong! Maybe I am getting a little better at domesticity?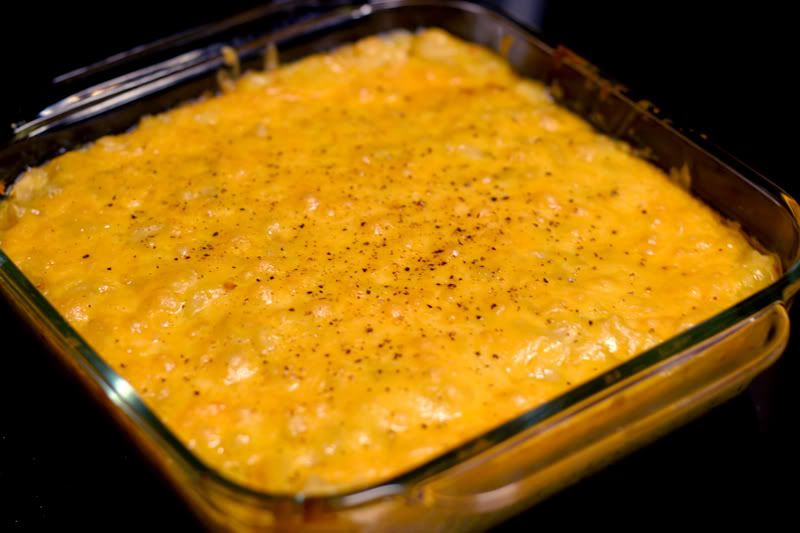 All mac & cheesey like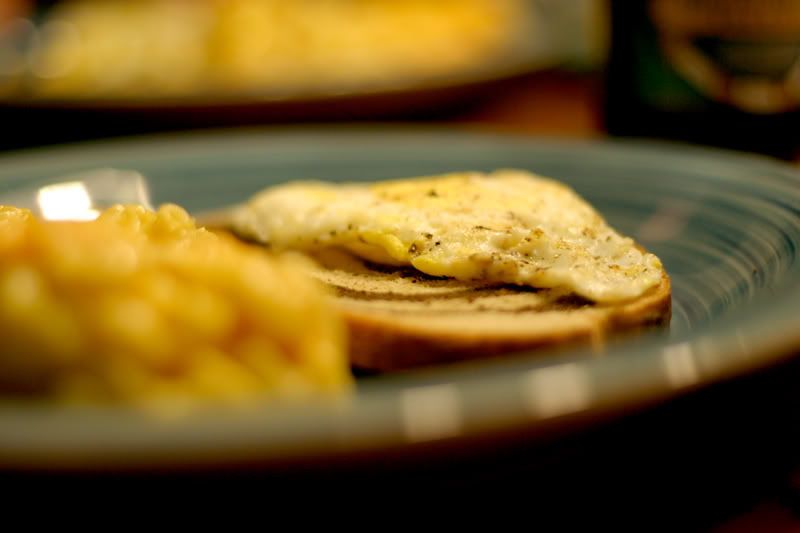 Since we figured we weren't getting enough cholesterol, we decided to have a fried egg on rye and pumpernickel bread. (For those who don't know, my fiance is the
best
at making eggs, no joke.)
Mmmmm...yummmm...drool
So this meal happened Sunday. On Monday we had leftovers of the same meal. And last night, to continue the theme of cheese, I made my first ever broccoli and cheddar soup! The photos aren't here at the house, so I will post at a later date, but lemme tell you.. it was gooood. I was again having a "I don't know what to cook!" moment and David e-mailed me a recipe he found online that was supposed to mimic Panera's broccoli and cheddar soup. For those who haven't heard the story: broc & cheese soup from Panera used to be my
favorite
soup, ever. The one day, a nice little employee decided to inform me right before he served me my bowl, that their soup has chicken stock in it. AGHHHH!! NOOO!!! (I will say, my new favorite is the creamy tomato soup.. delishhhhh..) So I hadn't had broc & cheese soup since that horrible night. I will say, the recipe was pretty on the ball. The only thing we were missing was a French baguette to dip into the yummyness. By the way, by cooking this soup, I was able to make a
roux
, which was only a term I had previously heard on Top Chef (and had no clue what it was). Go me! Today is Wednesday and David had leftover soup (with a baguette! He picked one up from the store) and I made some deliccccious Black Bean Burritos (which of COURSE have cheese!).
Will this cheese theme continue? Will I feel my blood thicken overnight? Will my heart beg me to stop?? Stay tuned!