I am an avid fan of
A Prairie Home Companion
which airs on NPR weekly. When I heard an advertisement a few months ago that Garrison Keiller was going on a summer tour (closest stop Brevard Music Center, about three hours way), I just
knew
I had to go. It took a little convincing to get David on that bus (at one point I really thought I'd be going alone), but eventually he saw how fun it would be and agreed to accompany me. We decided to make a weekend of it, planning to camp in the mountains and all. It actually took a while to find a nearby campground (we decided Asheville was too far away), and then just a few weeks ago David happened upon
Ash Grove
, which is a privately owned campground. We loved their website and their little video tours and within a few days had booked a site. David did a little travel research and decided on a few hikes and waterfalls to see. (Brevard calls itself "The Land of Waterfalls" so it's only suiting that we would make time to visit some of them!)
I had to work on Friday, so we left early Saturday morning with Looking Glass Rock in mind. Looking Glass Rock is a monolith right in the middle of Pisgah National Forest. The website David sent me described it as a 6.4-mile moderately difficult hike (later I discovered that other sites rank it as strenuous, which definitely seems more fitting). Here is a picture of the mountain we were set to climb: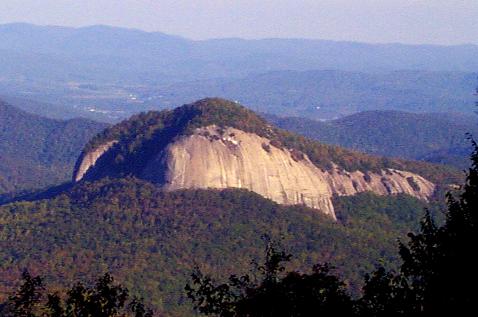 The elevation gain during the hike is over 1700ft -- wowza! Nothing compared to our hike in Texas a few years ago (another monolith, Enchanted Rock) that was only a 400+ft gain. We arrived at the trail around 10:00am, ate PB&J sandwiches, drank water, stretched, and set out.
Within 10-minutes of hiking, we found this little off-trail path that led to a stream (and presumed waterfall, given the sound) below.
It was pretty steep going down ... and back up!
The hike was very shaded and cool (and actually reminded us a lot of hiking in Olympic National Park last summer!), the ground still moist from rain/humidity. We saw a lot of mushrooms along the way.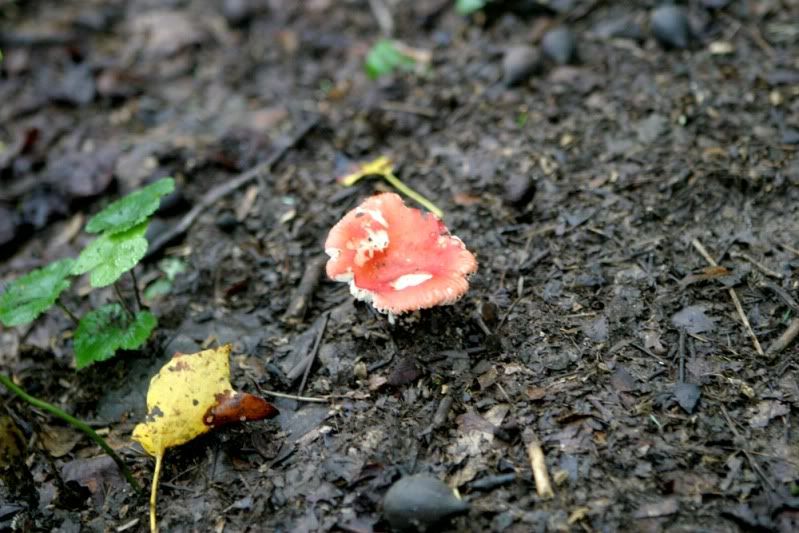 The only frustrating part of the hike (and mostly our own fault) was not knowing how far along we had gone. I can't even tell you how many times we said "Oh, we must be 1/3 of the way!" or, "Oh, I think the summit is right around this bend!" The trail is really well marked, but there just aren't any solid indicators of how far along you've gone (unless you research ahead of time and read others' descriptions of the jaunt). After a long series of switchbacks, we took quite a few breaks.
Because there was such a great elevation gain, it was easy to notice the terrain changes, along with the changes in flora. This is one of my favorite areas.
We saw this little booger on our way up but were in the middle of a motivated climb so didn't have time to stop and photograph it (so this is actually from on the way back down):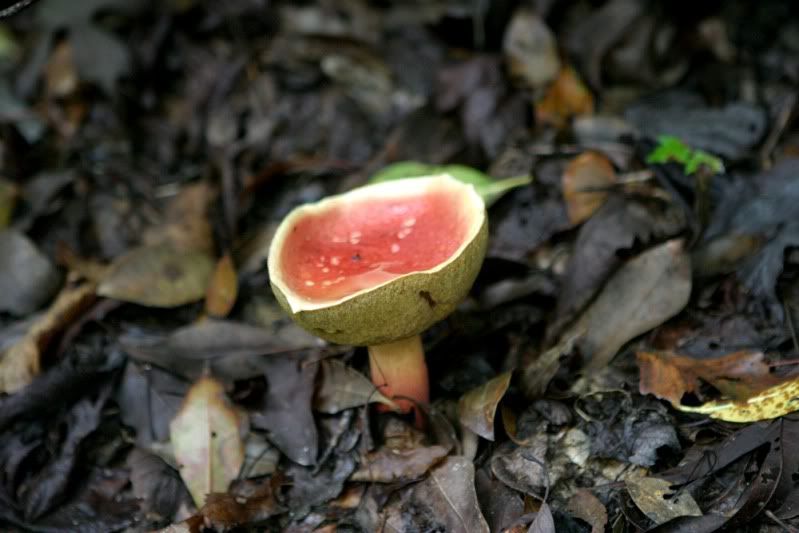 Aside from one other family (about six people), the trail was pretty isolated, which we enjoyed. After passing one another again and again (in the end, they beat us), we made it to the top and discovered it was
still
quite foggy outside. Oh no!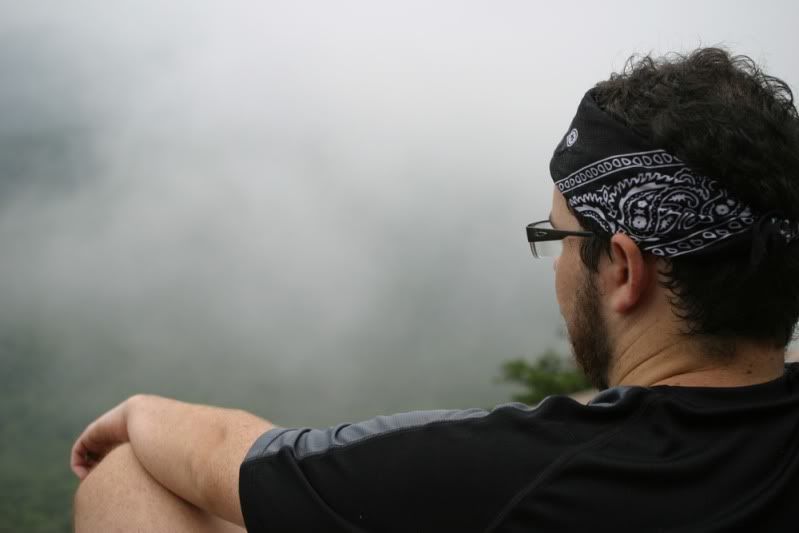 Eating lunch, balancing myself, and taking in the view
The skies beginning to open up!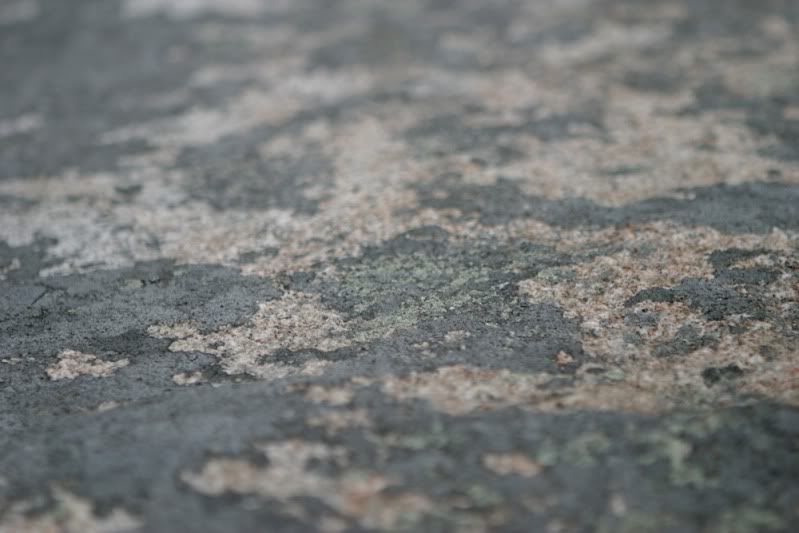 A closeup of the plutonic surface
Dirty legs!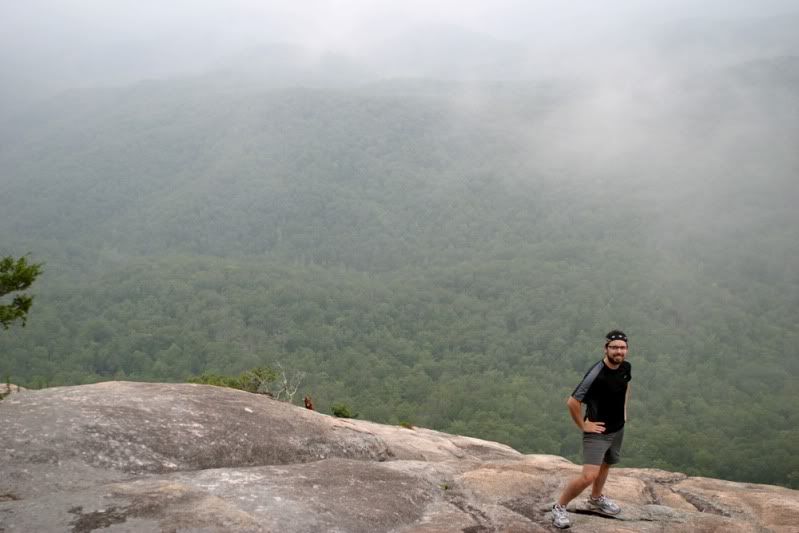 Handsome man straddling the edge
It took us about 2.5-hrs to make it up to the summit and less than an hour to make it back down (spending about 20-30minutes at the top). Afterward we were dirty and exhausted and excited to make camp.
Arriving at Ash Grove, the owners were very hospitable, showing us our site, bathrooms, amenities (like a sink outside the bathroom for washing dishes), and even brought a bucket of water to our site for us! We packed a wheelbarrow full of our gear, unloaded at the site, and had the place ready within 10-minutes (thanks to David).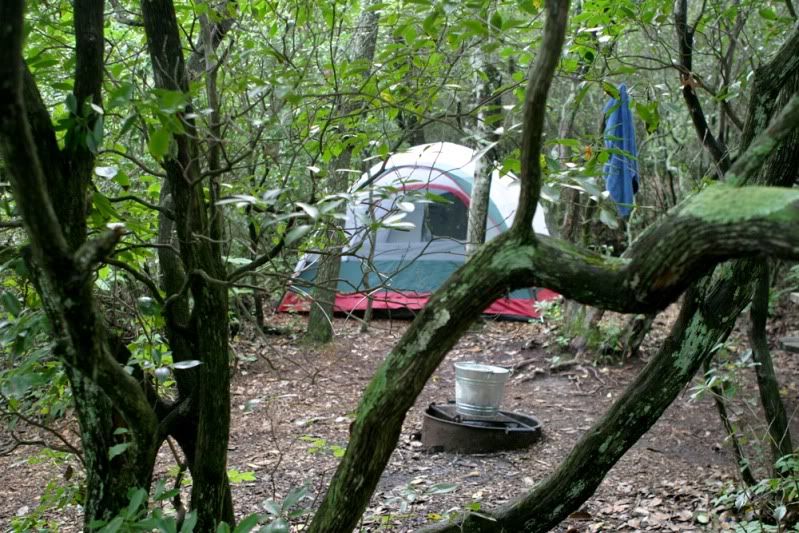 We had no time to waste, as we still had to shower and get ready to head out for Brevard Music Center! The show was about four hours long, it rained (by rain I mean pour) for about two of those hours, and once people more-or-less evacuated and the sound was fixed, we had a delightful time! We came prepared for the rain with ponchos and umbrellas, and enjoyed people watching for about an hour before the show started. I think even David had fun!
The next day we planned for a few short hikes to waterfalls and to play in the water.
Triple Falls in DuPont Forest, photo by David
He climbed to the top of those falls... I wasn't up for that sort of climb that day. After spending some time there, we headed to High Falls.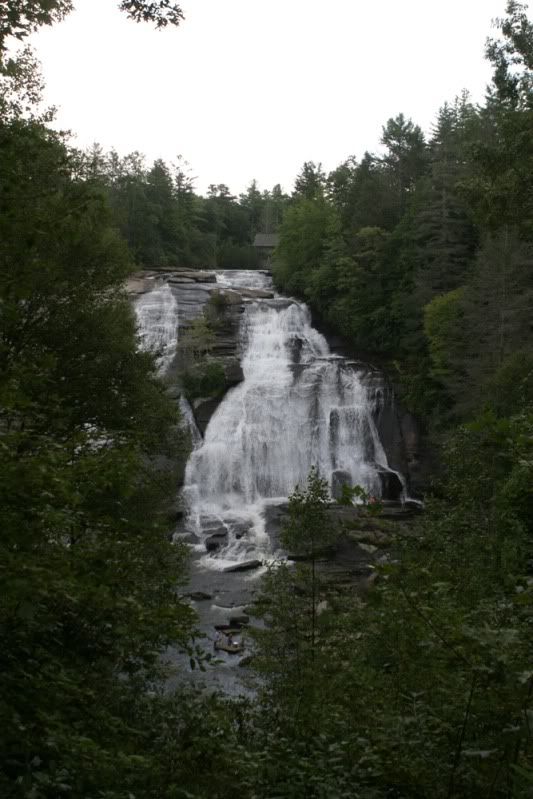 viewpoint of High Falls, photo by David
Part of the trail down to the base of High Falls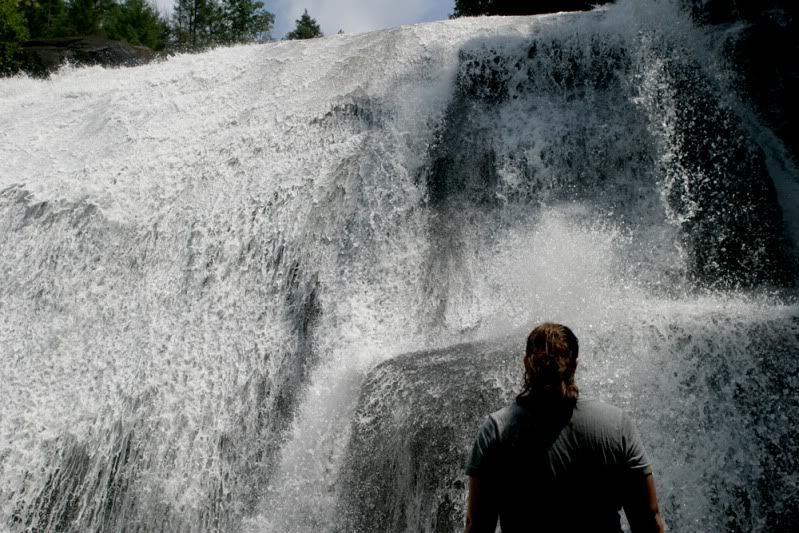 Me enjoying the misty waters of High Falls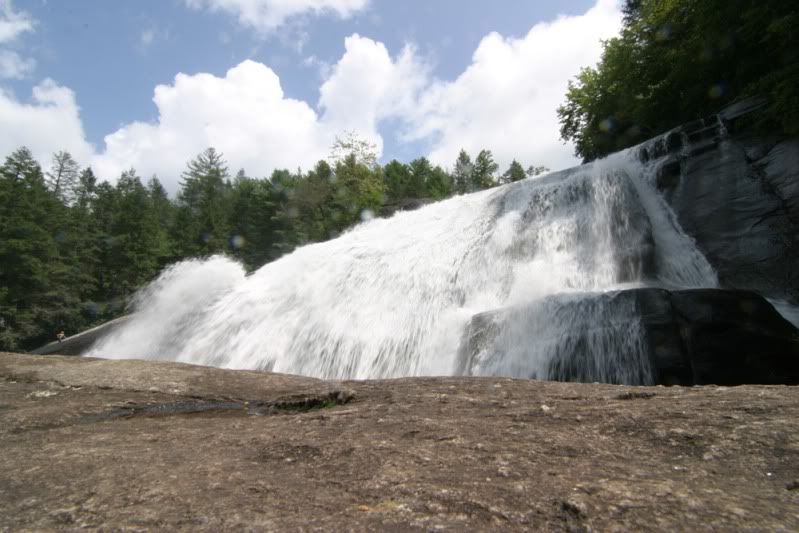 A nice man offered to take this photo of us on the way back down
The day was getting late, but before heading back home, we wanted to stop by Sliding Rock. Admission is $1/person and it's basically an all natural waterslide in 42-degree water.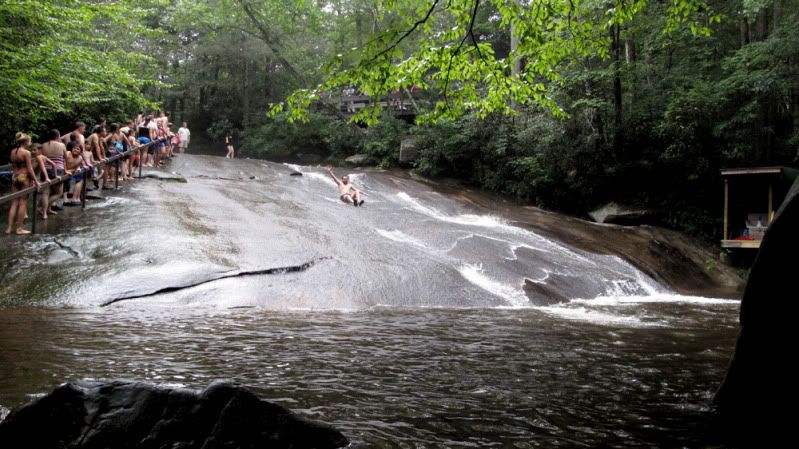 David on his way down!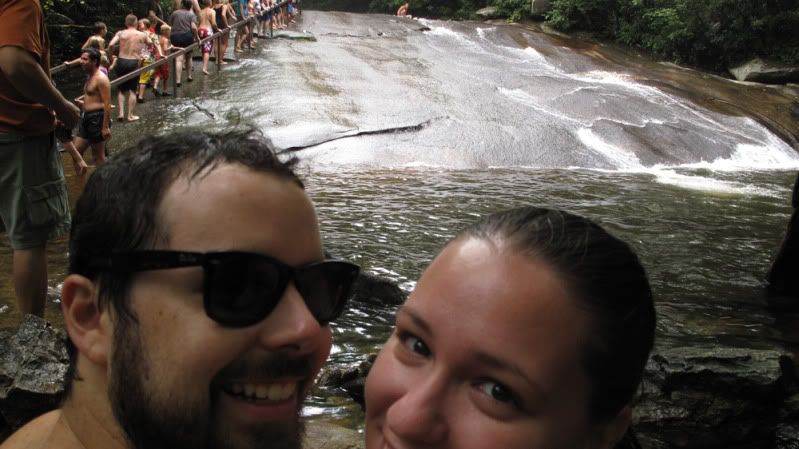 Both of us wet from our rides down, ready to go home.
What a fun weekend! We both really love Pisgah National Forest and plan on going back soon.